Well I promised you some St. Patrick's day fun...so here you go! :)

I made this fun, SIMPLE breakfast last year and it was a hit. I loved that I could make it in under 15 minutes and my kids totally gobbled them up. I give you...

SHAMROCK CINNAMON ROLLS!! :)


All you need to make some of your own is a can of premade cinnamon rolls (you COULD make your own...but in my life right now that is not really reality ;) and a small heart-shaped cookie cutter.

Then all you do is...
Then you...
Cook for 12 minutes at 400 degrees, cool and frost, and you are ready to eat!

I added ONE drop of green food coloring to the frosting just to be a little bit more festive. I love how these turned out and I cannot wait to have my kids wake up to them on March 17th!

Thanks so much for checking out Blue Skies Ahead today! I am always amazed that people are interested in some of the little things we do in our family, but I love having you and SO appreciate all the sweet comments and emails. Have a wonderful day!!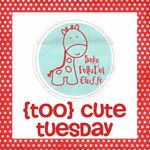 Seven Alive